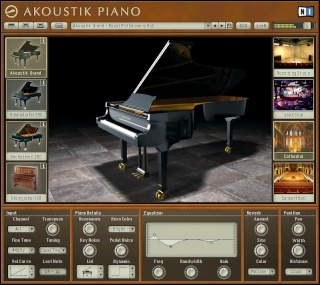 N.I.Akoustik.Piano.VSTi.DXi.RTAS.AU.HYBRID.DVDR.D1-DELiRiUM
Supplier :: TEAM DELiRiUM/H2O
Cracker :: H2O
Packager :: TEAM DELiRiUM/H2O
Protection :: SERIAL
Date :: 10-07-05
Size :: 50 * 50MB
▐ ▌ ▀█▀ ▐░▐
▐▄▌ ▓░ - ABOUT - ▀ ░▀
AKOUSTIK PIANO fuses the sampled sound, expressiveness ande keys
were sampled at varying velocities and great care was taken to
capture the entire sustain and release phases. The brand new
Layer Morphing Technology generates a seamless dynamic gradient.
The characteristic resonances caused by use of the pedals can be
adjusted as can the subtle mechanical noises of the pedals and
keys themselves. From perfect pianissimo to forceful fortissimo,
this instrument delivers the same breadth and depth of tone as
the originals.AKOUSTIK PIANO has a first-class integrated
convolution module, allowing highly authentic spatial
characteristics to be added to the sound. Place the piano in a
studio, jazz club, concert hall and a cathedral or use the dry
signal as it is. The acoustic parameters of these spaces, such
as the size, can also be manipulated. From the close mic setup
of a jazz combo to the more ambient nature of classic solo
performance, AKOUSTIK PIANO covers the whole spectrum.
playability of three of the most reputable grand pianos û
the Steinway DÖ, Bechstein D 280Ö and Boesendorfer 290
ImperialÖ û as well as the charismatic Steingraeber 130Ö
vintage upright piano into one application. AKOUSTIK PIANO
covers the entire range of piano sounds and styles,
transfusing the sonic characteristics and subtle tonal
nuances of all four into your computer û the perfect
complement for studios, rehearsal rooms, schools, stages and
clubs.AKOUSTIK PIANO is the new benchmark in sound quality,
capturing the full body and feel of the originals with
unprecedented authenticity. The latest recording technology as
well as a specially developed microphone setup was used for
all 4 pianos. The result is a uniquely warm, transparent
and flexible sound that delivers the same distinctive
character of each individual piano in exacting detail and
can still be adjusted to meet specific needs.AKOUSTIK
PIANO plays and responds exactly as real pianos do.
URL: http://www.nativeinstruments.de/index.php?id=akoustikpiano_us
- iNSTALL NOTES - ▀ ░▀
1) Unrar, mount or burn
2) Use H2O keygen
3) and
4) Enjoy the rlz Wink
- N O T E -
N.I. choosed to do a oversized dvd1. To keep it hybrid we do the same.
That meens dual layer for dvd1 for burning. Otherwise mount.
Team DELiRiUM/H2O
Team DELiRiUM/H2O
>>> clique aqui <<<<

Uuk

Admin




Número de Mensagens

: 1433


uma verdade:

: a que está la fora


uma música boa:

: the look


uma música ruim:

: créu


-

:



---
Permissão deste fórum:
Você
não pode
responder aos tópicos neste fórum