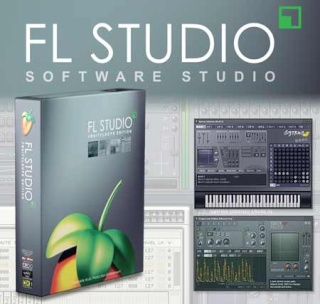 FruityLoops Studio é um estúdio completo, permite criar loops de bateria eletrônica em WAV, MIDI ou MP3 e diversos outros sons. Acompanha sintetizador e sequenciador integrados, com mixagem interna de 32-Bit. Fácil de usar para usuários novatos e cheio de ferramentas avançadas para usuários experientes, é um verdadeiro estúdio digital. Utiliza MIDI e DirectSound, possui volume, pitch, mix e ressonância para cada nota, efeitos digitais como stretch, fading, reverb, entre outros efeitos diversos. Possui suporte a VST, VSTi e Dxi, além de contar com sintetizador para guitarra, piano e teclado, todos com leitura a 24-bit.
FL Studio is a full-featured music production environment capable of
multi-track audio recording, sequencing and mixing for the creation
of professional quality songs or realistic drum loops. With VST/DX
hosting, 32 bit internal mixing and advanced MIDI support no musical
style will be beyond your reach. Songs or loops can be exported to a
WAV, MP3, OGG or MIDI.
For an introduction to making music with FL Studio click here.
Main Features:
High quality audio engine, for professional sound quality.
Sophisticated interpolation algorithms (hermite, sinc) during
realtime playback & during rendering.
Supports DirectSound and ASIO enabled sound cards for audio output
and ASIO audio recording.
Open architecture allowing third-party instruments (enhanced
proprietary FL instruments standard, VSTi , DXi2 & Buzz ) and
effects
(enhanced proprietary FL effects standard, VST, VST2, DirectX &
Buzz).
Ability to function as a VSTi, DXi and a ReWire client.
Ability to host ReWire clients itself.
Advanced sequencing methods allowing quick entering of realistic
drum loops (step sequencing grid) and composing complex
instrumentals
(advanced piano roll, arpeggiator, keyboard tracking, real-time
gate).
Unique note properties morphing ability (pitch, cutoff, resonance,
panning).
Live multi-track recording of audio, control movements & integrated
automation events editor.
Multi-segment automation clips with unlimited complexity and
integrated LFO unit.
Procedural control over parameters by using special controller
plugins.
Advanced mixer: 68 mixer tracks (64 insert and 4 send tracks)
supporting up to 8 plugin FX per track;
Send any mixer track to any other track and create complex mixer
chains of virtually unlimited complexity;
Track recording with ASIO input support (for recording MIDI, vocals
etc.);
Integrated parametric equalizer, volume and panning for each mixer
track.
Many high-quality integrated instruments: WaveTraveller (wave bend
synth), Sampler, TS404 (the popular bassline engine), 3xOSC
(subsynth), Plucked! (plucked strings), MIDI Out, DX10 (FM synth),
Scratcher (turntable emulator), Wasp (demo), SimSynth Live (demo),
and more.
A full set of high-precision mastering and special effects filters:
2
reverbs, 2 compressors, parametric equalizer, graphic equalizer,
distortion, phaser, flanger, bass boost, delay line and more.
Advanced playlist & full-featured audio tracks.
Click removal & volume ramping to avoid pops.
Imports *.WAV, *.OGG, *.MP3, *.MID, *.REX, *.SYN (SimSynth 1 & 2),
*.DS (DrumSynth) etc. as sample formats.
Exports audio to 16Bit or 32Bit *.WAV file, *.MP3, *.OGG.
MIDI remote controlling of most parameters (VST plugins also
supported).
Import MIDI sequences and controller events.
Export MIDI notes & controller events to a standard MIDI file.
Why this release is named FL Studio XXL Producer Edition
8.0.0+(plus):
this release included full FLi:
"Poizone 2.1.0" and "Toxic biohazard 1.0"
Why this release is named FIXED:
fixed bug in FL SynthMaker (save disabled).
Install the app.
Run patch.exe
Enjoy!
IF YOU LIKE THIS SOFTWARE, PLEASE BUY IT!!!
>>>>> CLIQUE AQUI <<<<<

jofre

Admin




Número de Mensagens

: 726


uma verdade:

: pamonha tá caro hoje em dia


uma música boa:

: cannonball


uma música ruim:

: callin you


-

:



---
Permissão deste fórum:
Você
não pode
responder aos tópicos neste fórum