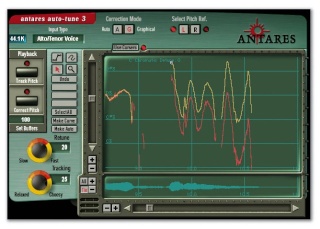 Antares.Auto-Tune.VST.DX.RTAS.v4.39
SUPPLIER ..: TEAM AiR
PROTECTION : PACE
SIZE ......: 04 * 4,77MB
DATE ......: 08/2006
O Auto-Tune é o plugin ideal para corrigir pequenos deslizes na afinação vocal, tendo alcance para quatro oitavas diferentes.
Hailed as a "holy grail of recording" by Recording
magazine, Auto-Tune is a multi-platform plug-in that
corrects intonation problems in vocals or solo
instruments, in real time, without distortion or
artifacts, while preserving all of the expressive
nuance of the original performance with audio quality
so pristine that the only difference between what
goes in and what comes out is the intonation. Over a
typical pitch correction range, it is simply not
possible to tell that a sound has been processed,
except that it is perfectly in tune.
Auto-Tune is used daily by thousands of audio
professionals around the world. Whether to save
studio and editing time, ease the frustration of
endless retakes, to save that otherwise once-in-a
-lifetime performance, or to create striking special
effects, Auto-Tune 4 is the tool of choice.
Prepare to be amazed.
What's New in Auto-Tune 4
Building on the great sound quality, transparent
processing and ease of use that have always
distinguished Auto-Tune, Auto-Tune 4 adds significant
new features as well as a sleek new user interface.
Key new Auto-Tune 4 features include:
Automatic Mode
* The ability to specify target note behaviors (Scale
Note, Remove, Bypass) in individual octaves
* Virtual keyboard for target note control
* Improved Targeting option for problem vibratos
* Enhanced Vibrato functions for more realistic (or
wacky) vibratos
* A Hold function to help analyze pitch errors
* Other assorted niceties (Dual Detune display, new
Scale Edit buttons, etc.)
Graphical Mode
* Larger Pitch Edit Display
* Seriously expanded and reworked Graphical Editing
Tools
* Multi-level Undo/Redo (up to 20 levels)
* Vibrato Scaling for modifying the depth of vibrato
while maintaining its shape and character
* Streamlined navigation controls
* Cursor Pitch Display (back again by popular demand)
* Selectable Edit Display color schemes
Other
* 192kHz compatibility (host and hardware dependent)
* Selectable knob control
* Sleek new interface
http://www.antarestech.com

jofre

Admin




Número de Mensagens

: 726


uma verdade:

: pamonha tá caro hoje em dia


uma música boa:

: cannonball


uma música ruim:

: callin you


-

:



---
Permissão deste fórum:
Você
não pode
responder aos tópicos neste fórum